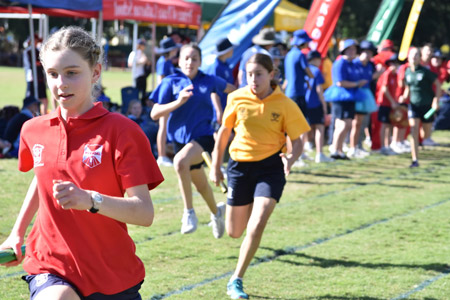 Interhouse competitions take place throughout the year for cross country, swimming and athletics. Students can qualify to represent the College at district level and above.
Club sports play an important role in the lives of many of our students. The College provides a sporting program that complements club sports through skills development, and also gives students the opportunity to represent the College in selected competitions.
There are various avenues for students to get involved in sporting teams, including competing in the Brisbane Christian Schools Sport Competition in touch football, soccer and netball, and the Brisbane Outer School Sporting League in netball, basketball, volleyball and futsal.
For more information on our College sports program please contact our Senior Campus Health and Physical Education curriculum leader, Rachel Denning.
Music Opportunities
In addition to classroom lessons, students can learn a wide range of instruments through our co-curricular music program. Our instrumental tutors offer weekly group or individual lessons for woodwind, brass, percussion, strings, voice, piano and guitar.
There are opportunities for students to perform at concerts as an individual or part of a group. Students are encouraged to participate in the College Ensemble program, to support and enhance their musical learning.
Senior Campus ensembles include:
Concert Band String
Ensemble Choir Junior
Contemporary Ensemble
Senior Contemporary Ensemble
Wind Quintet
Percussion Ensemble
Instrument hire is available for some instruments.
In addition to the College ensembles and choirs, students have the opportunity to become part of the Middle or Senior School worship bands that provide musical support to the weekly worship services on each campus.
Every second year, students in Years 6–11 are invited to audition for the College musical. Rehearsals start in Term 4 with performances in Term 2 of the following year. This coming together of superb musical and dramatic talent creates a wonderful end result, with many life lessons learnt and new friendships created along the way.
For more information on our College music program please contact our curriculum leader, Linda Brady.
Extension Activities (Y7-12)
Opportunities are provided for students to participate in a range of activities including World Scholar's Cup, Optiminds and STEM Activities.  These enrichment activities are offered to all students.
Lunchtime Clubs (Y7-12)
Lunchtime clubs are driven and led by the Senior students and currently include: Book Club, 'Chill Chat Chocolate', and Chess Club.